McClellan Ancestors
I'll include a list of those ancestors on my father's side of the family for whom I have built profiles here, until the list gets too large and unmanagabe.

Kurtis McClellan - b1975
William McClellan - b1740
William McClellan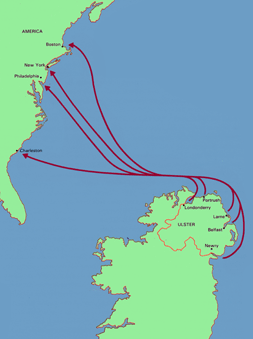 William McClellan was born in the northern part of Ireland around about 1740. We believe he came from County Armagh, but it could have been Antrim or one of the other Ulster counties. We currently know nothing of his family over there or what prompted him to leave his life there and cross the ocean in search of a new life here. What we do know is that he arrived in Cherry Valley in 1768, in what was then called Tryon County in the Province of New York. Today, this area is known as Montgomery County in the State of New York, in the United States of America... but of course, my family's presence in North America just manages to pre-date any of the nations that have arisen since.
William lived in Cherry Valley along side other early settlers to the area. Many of those original settler's names can still be found on mailboxes in the area. We surmise that he was generally a respected man in the community as he had friends there who saw to his affairs in his absence later.
In November 11th, 1778, British forces destroyed the settlement of Cherry Valley. The event can still be found in many history books, referred to as the Massacre of Cherry Valley. All told 31 people died, 38 prisoners were set free and 33 were carried off by the native (Mohawk and Seneca) allies of the British.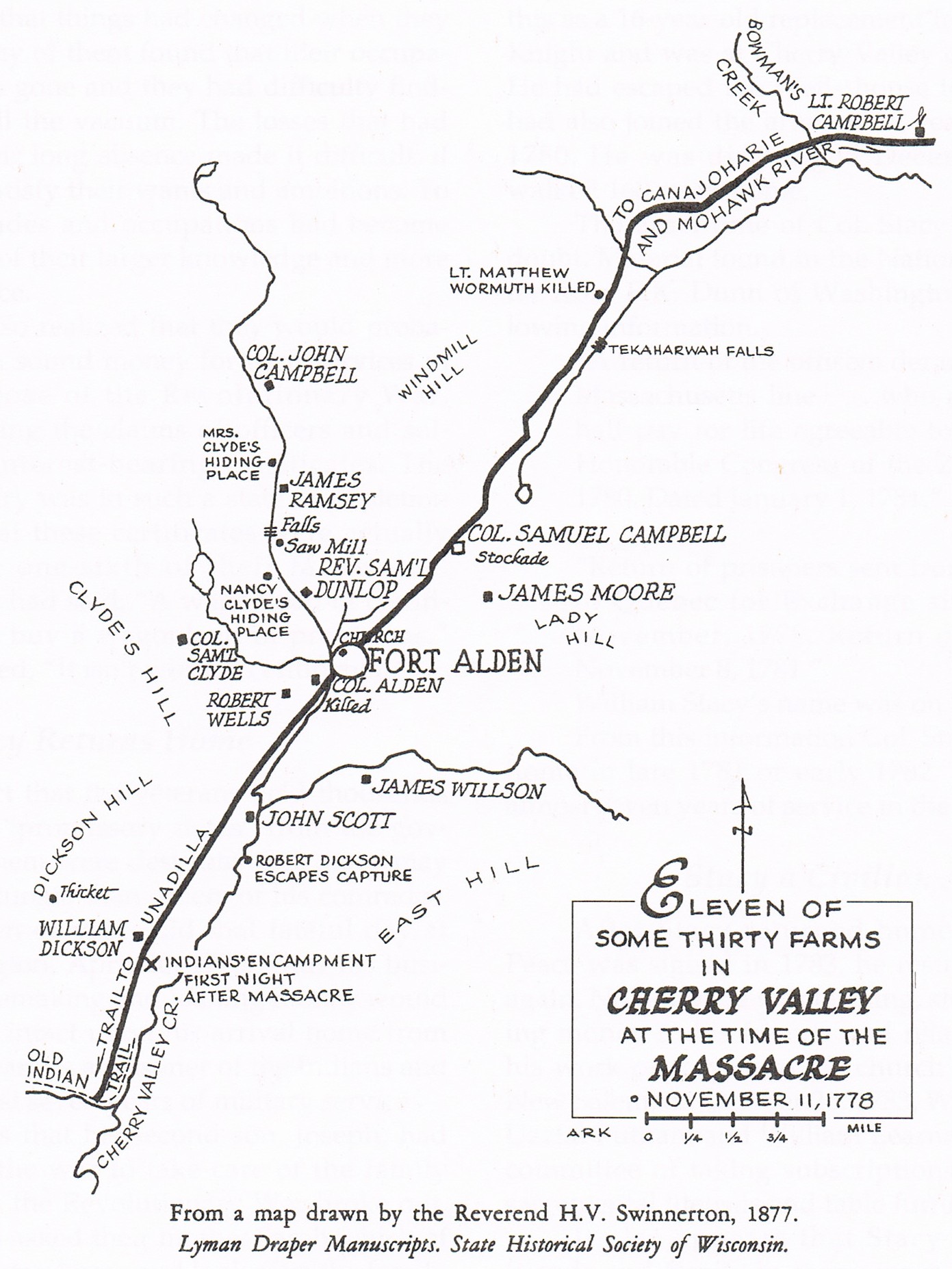 An account in a book (King's men: the soldier founders of Ontario - by Mary Beacock Fryer) relates how the fate of two families showed what could happen to loyalists caught in the middle. James Ramsay and WIlliam McClellan were both captured by natives and taken away. Ramsay had been warned, and had removed valuables from his house before the warriors burned it. William McClellan, meanwhile was so discreet that his family was not molested by the rebels and his name was kept on a list of prisoners the rebels wanted exchanged. The Mohawk burned William's buildings, crops and personal possessions during the attack. William stated that he believed they destroyed his buildings because the Americans would have done it anyway after he abandoned his estate. This way the Americans wouldn't be able to tell who was a 'Loyal' by seeing who remained intact and also wouldn't receive the benefit of looting the property after it was abandonded.
Accounts of being abducted by natives seem to popular among the history of this family. Family legend indicates some or all of William's 5 children at the time [William, Martin, John, Margaret & Jane] were carried off by Indians at the time of the massacre and later returned. Whether they did this for the children's protection during the raid or if it was a legitimate kidnapping is unclear. This is made more confusing by an account in the Ontario Historical Society Papers & Records in 1929 (Vol 25 - page 306) that states that "The father was seized by raiding Indians who put rings in his ears and nose. Eventually he escaped and was able to bring his wife and two sons to Niagara. The third son, Martin, born 1771, was carried off by the Indians to Ogdensburg but returned, three months later, to Cherry Valley, where he was rescued by the whites and sent to join the family at Niagara."
Regardless of the truth, and whether anyone was actually carried off or not, the last part of that statement highlights a key point of interest. That being that the whites remaining in Cherry Valley clearly didn't seem to bear William any ill will, in spite of his status as a loyalist.
We know that William was a loyalist, and remained faithful to the British during the Revolutionary War. After abandoning his home in Cherry Valley, William escaped to the British Army in 1778-9 and became a member of 'Butler's Rangers', a tough battalion of British Loyalist forces created by Col. John Butler and later led by his son, Walter Butler. Mohawk natives(under their Chief Joseph Brant - later Sir Joseph Brant,) and Seneca natives often worked with Butler's Rangers.
We know that William later entrusted the sale of his land at Cherry Valley to his friend and lawyer, James McDermott. The document was witnessed by John Burch, Martha Burch, and Henry Ramsey and is found in Tryon County, NY Deeds: 1772-1787 (Book 1/Page 312). William was quite fortunate that his land was not forfeited or seized by the Americans as had been the case with the land of many Loyalists.
Perhaps the ruse of burning his property to make it look like he was a rebel worked? Perhaps he was well respected in the settlement and well liked enough for people to turn the other cheek and realize he did what he had to for his family? We don't know.
We know that William and his family relocated to Newark, which is known today as Niagara-on-the-Lake. Back then, the area was known as Upper Canada, and would eventually be known as Canada West before ultimately being what we know today as Ontario.
Is that the end of William's story? Far from it. William was a weaver by profession and we know that he and his family (which we believe to have reached a total of 6 kids) stayed in that region for a while, though they would eventually move further into Ontario. William was married to a woman whose name we believe was Jane Ryan. Though I have been unable to find any marriage records or evidence of a 'Ryan' to support this claim.